Commencal Meta AM29 Worlds Edition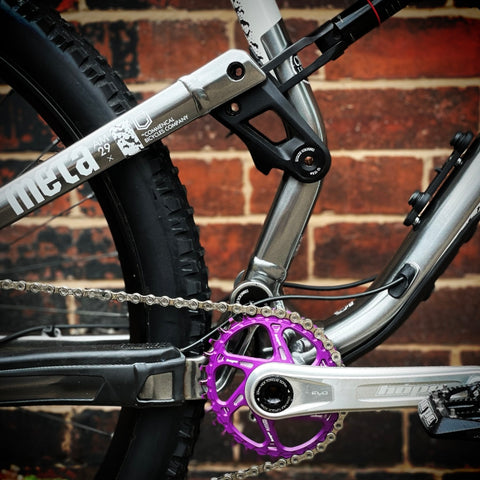 This was the first ever Custom build we did. A Commencal Meta AM29 Worlds Edition frame, built from the ground up. At a time when parts were at their hardest to get hold of, we managed to muster up this absolute beauty. Along with our customer we went back and forth finding the best solutions while finding parts the customer really wanted. 
Blazened in purple Hope products, This chainring looked great against the silver Hope cranks. (A bombproof combination) Our customer went for oval to aid with climbing. Black Hope pedals adorned for maximum grip.
Purple hope stem, spacers and top cap to finish off the cockpit. With gold Renthal handlebars to pop off against the silver frame. As you can see in this picture it has already visited a few bike parks!
The Commencal graphics looked great in their holographic glory.  Something that was only available on the worlds edition frame.
Rockshox Lyrik Forks and obligatory purple Hope hubs keeping the wheels spinning. Paired with Purple hope rotors for stopping power and Peatys Tubeless valves... well... because they match right.
1 x 12 Eagle GX drivetrain to keep the rear end motoring even up the steepest of climbs. Maxxis minion DHF at the front and high roller on the rear to keep the traction whilst still being fast rolling.
What a beautiful looking bike!