The Offering V1 Custom Build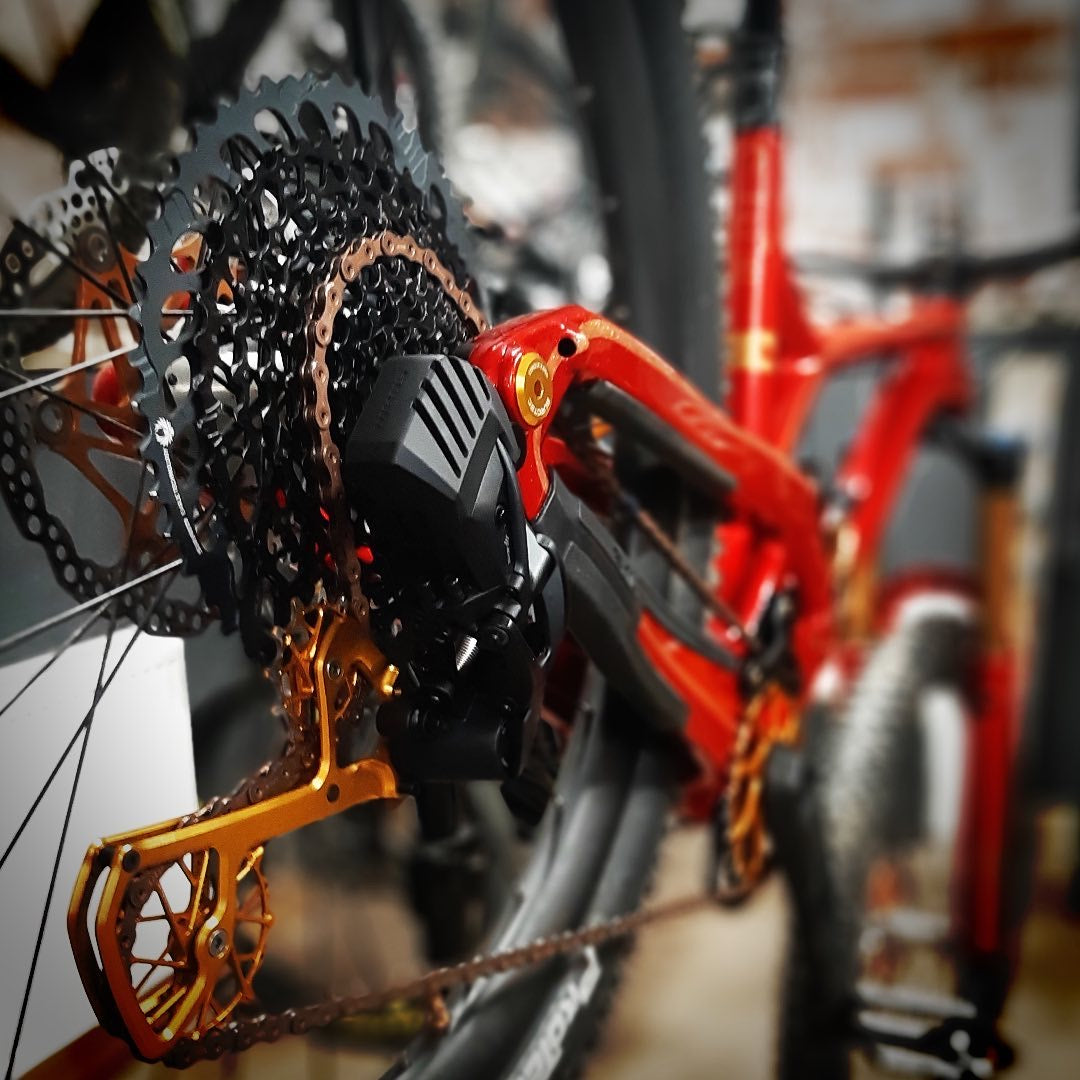 When the vision isn't restricted by cost  


This fully custom Evil offering V1 goes above and beyond the phrase 'Custom Build'. While it's not everyone's cuppa tea there is no denying this bike is eye catching, with a full custom paint job featuring gold flake she's definitely shining when the suns out!
No matter what angle you're looking from you can tell this build is in no way standard, from the thru axles to the derailleur cage. Just in case Sram AXS wasn't flashy enough, this one has a Garbaruk cage and jockey wheels. 
Despise being the V1 model this frame has V2 logos airbrushed on. Here you can see the ENVE carbon stem with custom anodised titanium bolts. 
Oh, and the Fox 38 fork lowers were also custom painted to match! 
Hope Pro 4 hubs are plenty flash for any custom build, and that's exactly what you can see spinnin' here. But, since then the owner had us build a new wheelset, Project 321 hubs laced with Berd polymer spokes to Amnasty carbon rims. Once again the rim decals were airbrushed on to match Fox Kashima. 
As previously mentioned this build sports GX AXS, which is our favourite derailleur offering from SRAM thanks to its effortless shifts and affordability when compared to similar alternatives.
Of course this build features Cascade Component's Offering link, increasing progression from 23% to 35%.
For good measure this was also custom painted to match the bikes new colour way.
Despite its looks and precarious positioning the Secus Vorsprung was one of our favourite editions to this build. If you're wondering what it does then in short it increases the negative air spring chamber, but you're best going and reading up for yourself, we'd be here all day otherwise!
Weight was definitely a factor in this build, Raceface Next R carbon cranks delivered when it came to saving weight but without compromising strength. Did I mention cost wasn't a limiting factor? 
I suppose the titanium Huktek and Burgtec linkage bolts helped with the whole weight saving goal. Oh, and all the custom titanium hardware too.