Evil Offering V2 X01 Custom Wheels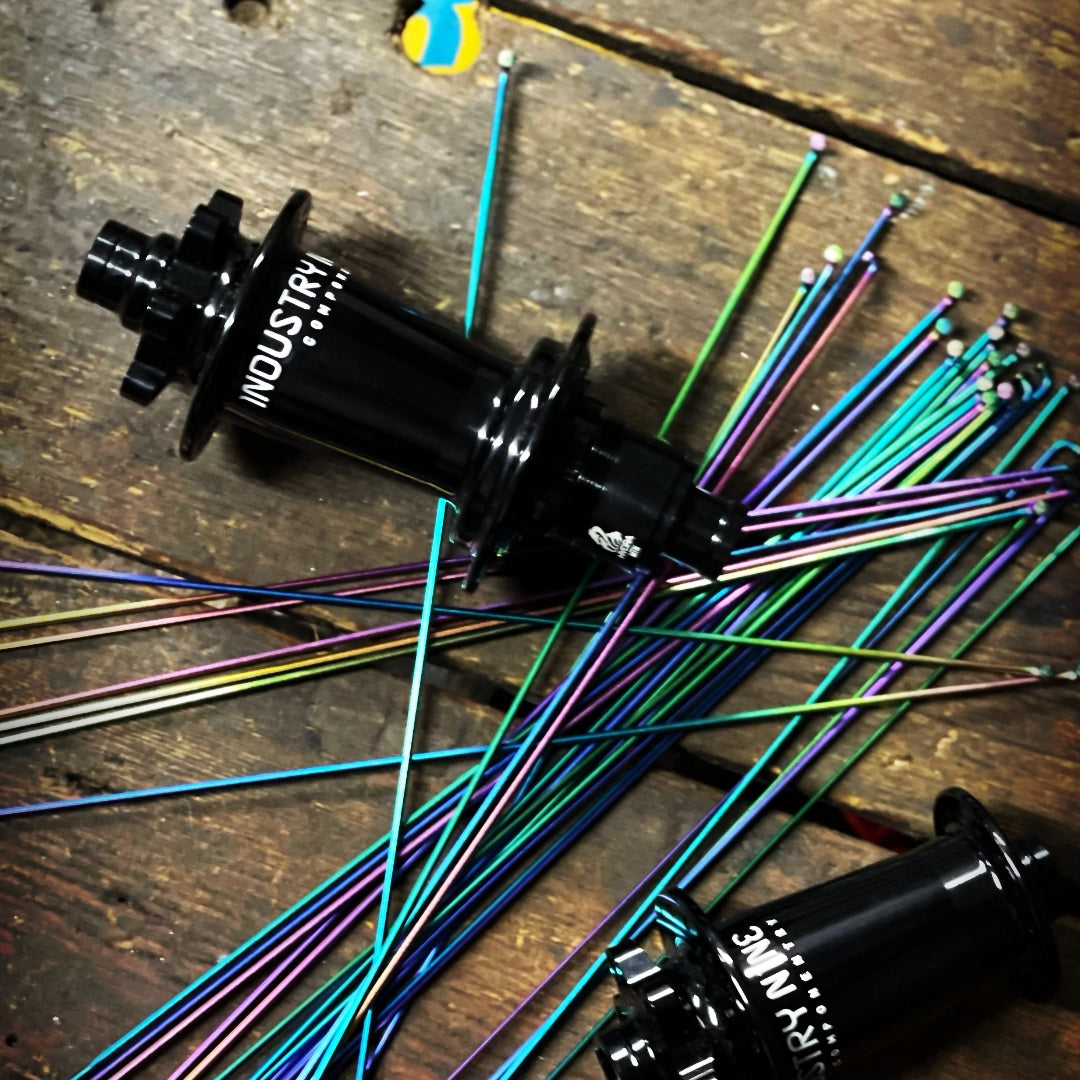 The brief was, "An understated, stealth looking bike with a few subtle individual touches." I think we nailed it! The Evil Offering V2 in Black Out Drunk!
Industry Nine hubs come as standard on all new EVIL's but we put a little bit of a spin on these wheels. (No pun intended) more on that later…
With a full XO1 drivetrain, we knew this bike could cope with anything our customer wanted to throw at it. We know his local trails well and understand how both technical and fast they can be. We also Invisiframed the whole bike, for when those trails bite back.
So.. back to the wheels. These are something pretty special. We hand built these wheels using Pillar Wing Titanium Race spokes, these things are not cheap but they look amazing with their rainbow anodising. 
The spokes are shaped like the wing of an aeroplane, there is some mad science behind this that I'm not qualified to talk about 😂. But basically as the air resistance actually comes from the side of the wheel and not directly in front of it, it fixes the issue of bladed spokes not actually being as aero as people think.   
Race Face Carbon bars adorn the cockpit, with SRAM Code RSC providing the anchors to stop this monster  
The cable routing on these bikes is an absolute dream, meaning with a little knowledge you would be able to work on your own bike pretty easily. Put the cable in one end, it pops out at the other end exactly where you want it!
Carbon XO1 cranks, for stiffness and great power transfer to that massive 10-52 12 speed Cassette. 
Even the XO1 derailleur is blazoned in carbon parts to keep the weight down, whilst keeping the strength up  
Every time I look at these spokes they make me smile. We had some real issues getting hold of them, as they don't have a UK distributor. But with perseverance we managed to source them from a Chinese distributor, they also custom cut them to length for us. Legends. The end result was worth the wait. 


On to the next one…